Lee works with individuals one-on-one in person or online (Skype or Zoom) in private yoga therapy sessions.  Typically, the first session includes intake, interview, assessment of what your needs and goals are, and the recommended yoga practice for at-home practice.  The first session usually lasts 90 minutes and costs $170.  Thereafter, a private session fee is $130/hr.  
Private sessions are by appointment only. 
Due to COVID-19 we now offer exclusively online classes.
The practices we use in our classes are all guided by the latest research so that your efforts can be most effective.  We use meditation, chanting, mantra, mudras, pranayama (breathing), asanas and yoga Nidra.
If interested, please email me for latest schedule and more information.
Group Classes Onsite - temporarily suspended
Marsden Integrative Oncology Clinic (www.marsdencentre.com)
9131 Keele Street, Vaughan, ON L4K 0G7
Small group yoga therapy classes (90min, Mondays and Thursdays) will commence again Oct 1, at 10am
> Call 647-686-3806 or email info@yogaforhealth.institute for details or to register for upcoming classes.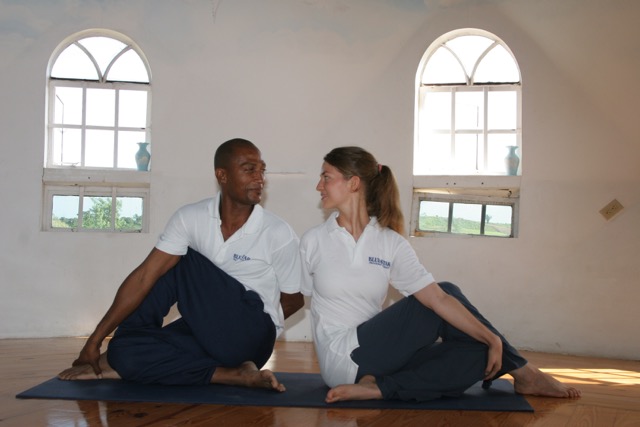 Updated clinical guidelines from the Society for Integrative Oncology recommends the "Use of meditation and yoga to improve quality of life, for depression and mood disorders, and for anxiety and stress reduction".  
Lee Majewski is not a physician, nor is she pretending to be one. She believes in educating people on natural ways to support their own health and wellness, and teaches healthy living techniques and traditional health practices taught throughout the centuries. They are not a substitute for medical treatment. None of the practices offered are to be chosen instead of professional medical services. You are always encouraged to seek consult with a physician or medical professional before beginning any wellness, movement or exercise routine. The Yoga Therapy components of her practice are based on her completed 1000 hour training in India, Kaivalyadhama Yoga Institute. She is certified Yoga Therapist by International Association of Yoga Therapists. Yoga Therapy is not a licensed healthcare profession.
She disclaims any responsibility for any unforeseen circumstances resulting from your free choice in seeking to use her assistance in supporting your choices for a healthier life.
Be smart. Be happy. Be healthy….and make good choices!