Lee Majewski
– Founding Director

The mission of Yoga for Health Institute is to provide yoga-based therapy programs, which educate and empower our clients to transform their lives and improve their health and well-being.
 – Lee Majewski
We launched our first retreats in 2013 at the Kaivalyadhama Yoga institute in India. This program was specifically designed for cancer participants.
Soon we realized that we had a ground-breaking formula and expanded the programs to include psychosomatic chronic diseases like cardiac problems, digestive disorders, fibromyalgia, anxiety and depression, psoriasis and others. Yoga for Health Institute now is working on spreading these programs to other countries.
Our purpose at Yoga for Health Institute is to provide yoga-based healing programs to complement the current health care system. We do this through intensive programs, during which people connect to and experience their own healing power, resulting in improved quality of life. We work with individuals and with small groups.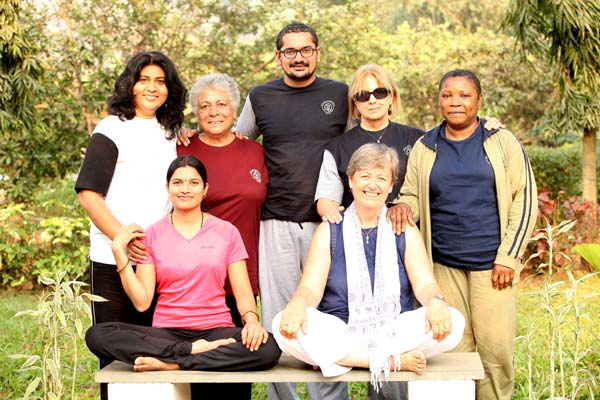 info@yogaforhealth.institute
Yoga for Health Institute, guided by traditional Yogic healing techniques, is a pioneer in holistic health-care. Scientific research has proven the effectiveness of Yoga therapy for individual improvement in psychosomatic chronic illnesses, by reducing stress, improving quality of life, and greater understanding of inner potential for healing. Our approach to treatment for modern health disorders begins with assessing the root causes for each individual and educating client about the tools available to help them change their own reality. Yoga for Health Institute strives to fill the gap in conventional health care, which often leaves individuals in a state of victimhood, isolation, fear, and depression in addition to possibly harmful side-effects resulting from prescribed drugs.
At the core of Yoga for Health Institute is our focus on empowering clients by teaching them yogic tools to take their mental and physical health into their own hands. We serve a wide range of individuals and groups who are seeking therapeutic healing. We are passionate about fostering sustainable transformation in our clients over 3 weeks as we work together to create a new lifestyle plan resulting in improved well-being and better quality of life.
The duration and intensity of our residential programs is the key to the client's success in incorporating a change within themselves. Healing requires a complete lifestyle shift and at Yoga for Health Institute we create positive space and sufficient time for clients to observe old patterns, internalize new habits, and develop their own healthy future practices.