Become a Certified Facilitator
The yoga for Health Institute is looking for facilitators with a high level of professional talent, a caring and compassionate nature, and a dedication to helping others.
Requirements to qualify for Certification:
Spiritual maturity and self-awareness

Certified Yoga Therapist C-IAYT

Daily Practitioner of Yoga and Meditation

Completed Vipassana Meditation

Two to five years work experience teaching yoga therapy and facilitating groups

Work experience in a supportive care environment is extremely valuable
Certified Facilitator Training consists of:
Completing one Yoga for Health Institute Chronic Solutions Program taken as a patient*

Completing a minimum of three Yoga for Health Institute programs as an Assistant Facilitator

MD Anderson Cancer Education Training
How do I become a Certified Facilitator?
The nature of our treatment services requires the highest quality Yoga Therapy professionals who, more importantly, have an established personal practice and take refuge within themselves. Yoga For Health Institute facilitators are caring and dedicated practitioners who are strong enough to ensure the creation of a healing environment in challenging circumstances. At the Institute, we facilitate the process of clients moving from victimhood to empowerment, a process, which is often uncomfortable for both clients and facilitators. Facilitators must possess the maturity to lovingly hold a space for clients while they deal with the psychological factors, that may surface during treatment.
*For this reason, Yoga For Health Institute requires new team members to participate in one treatment program as a client in order to ensure that our facilitators have a personal understanding of the experience. Depending on the applicant's experience in our program, we may offer successful candidates an invitation to assist in program facilitation as a trainee.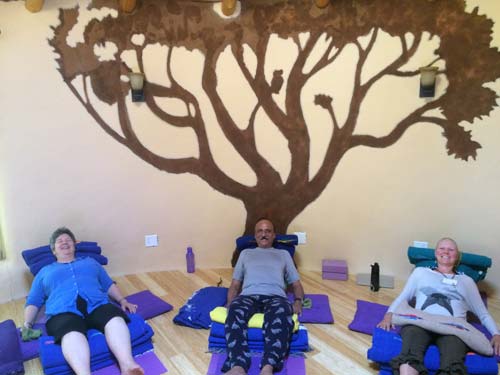 Trainees will receive one-on-one training with the Yoga For Health Institute program director on all yoga therapy modules implemented in our programs. Trainees will assist in a minimum of three programs, after which they may qualify to become certified facilitators and be fully competent to teach all modules of the programs. Certified facilitators will then gain access to a breadth of professional yoga therapy materials required to run Yoga For Health Institute programs and to carry out future research for program material updates. Facilitators will have the freedom to organize and run Yoga For Health Institute programs internationally, however, program material and modules are based on our scientifically proven standard of effectiveness.